Integra Control Zone
Web Integrated concealed Zone Control
Web Integrated Concealed Zone Control
Integra Control Zone is a compact electronic device housed in a modular box (3 DIN modules), able to control the temperature of a room, within a zoning system.
THE ELECTRONICS DISAPPEAR IN THE ELECTRICAL PANEL
Equipped with 0-10 V output for the modulation of a damper, 2 dry contacts for the control of an open/close damper, for the control of the fan coil, or for controlling a 2 or 3-way valve.
Two LEDs on board, green and red, give an immediate feedback of the operating status of the device (red = anomaly)
It interfaces with Integra Benessere or with third-party home automation systems through a standard RS485 serial port with Modbus RTU protocol.
CONCEALED ZONE CONTROL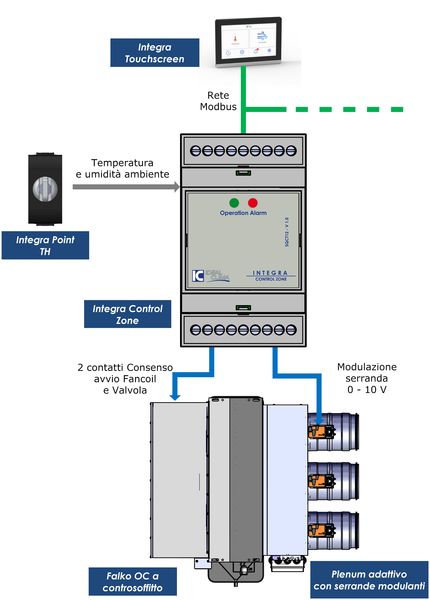 Integra Control Zone is used as a zone thermal controller within ducted hydronic heating and conditioning systems, with temperature control in individual thermal zones (multi-zone systems).
Integra control Zone receives the temperature data from the Integra Point TH ambient sensor and continuously modulates the power delivered to the single thermal zone, with PID regulation algorithm, for maximum accuracy of the room temperature regulation. It then starts the fan coil with a 4-minute delay (eg. to allow the opening of the water circuit Valve).
INTEGRA CONTROL ZONE IS PART OF INTEGRA WELLNESS
Integra Control Zone can only be managed through the Modbus interface, so it needs a master, for example Integra Touchscreen, which transmits the desired temperature values by the user.
MODULATION: MORE COMFORT AND BIGGER SAVINGS
Integra Control Zone manages the supply of hot or cold air to its area in complete modulation. The heat output is always proportionate to the needs of the environment: the temperature always remains at the desired value, without the annoying swings typical of on / off air systems.
Furthermore, the power modulation from 0% to 100% with sophisticated PID logic guarantees a gradual supply of power, an exceptional silence of the air network and greater energy savings, because waste and temperature differences are eliminated.
Features

HIDDEN SENSORS AND TOUCH CONNECTIVITY

Dimensions

TECHNICAL DESIGN

Technical data

| Description | | Integra Control Zone |
| --- | --- | --- |
| Code | | SQCT12 |
| Electrical protection | IP | II - IP30 |
| Fan coil and damper output signals | - | Inductive relays; power interruption 2.5 A |
| Power consumption max out 0-10V | mA | 8 |
| Integra Point TH sensor connection cable | class | FTP cat. 5 or higher |
| Max distance Integra Point TH sensor | mt | Up to 30 |
| Assorbimento massimo uscita 0-10 V | mA | 8 |
| Supply | V | 24V DC |
| Current | W | 10 |
| Max conductor diameter | - | 1.20 |
| Height | mm | 57.5 |
| Width | mm | 53.3 |
| Depth | mm | 90.2 |

Download

Download

Files:

2011-12-20

9.78 MB

166,311

Scheda tecnica Integra Control Zone

2020-02-11

494.96 KB

284

Only registered and logged in users can download this file.