Integra Point TH
A sensor based on MEMS nanotechnology that detects temperature and rooms' humidity
Integra Point TH is a device that contains, in the space of an electric plate module, a temperature and a room's relative humidity sensor.The sensor is equipped with a particularly innovative hooking system, which allows it to be installed inside electrical boxes with any false polo that can be drilled commonly on the market. The electronics are completely invisible. All that remains detectable is the sensor cover, in elegant, anodized aluminium, designed with slits allowing air to reach the sensing MEMS element.
The connection terminals are spring-loaded for a quick electrical wiring.
Due to its advanced features, the Integra Point TH sensor is patent protected.
APPLICATION FIELD
Integra Point TH sensor is used to measure room temperature and humidity in heating and cooling radiant applications in conjunction with Integra Control Clima and it is part of "Integra Benessere".
Integra Point TH is almost invisible because the main body that contains the electronics is installed inside electrical boxes behind a common false pole of the main brands of civil electric series (Gewiss, Bticino, Vimar, Ave, etc.). Thanks to its innovative design, only the sensitive element is in contact with the ambient air, protected by an elegant sensor cover that allows an excellent passage of air, while the sensor is firmly hooked to the false pole.
Thanks to the proprietary communication protocol, insensitive to noise, the sensor can be installed at a maximum distance of 30 m from Integra Control Clima and allows to adopt particularly versatile solutions.
OPERATING MODE
The sensitive element that is immersed in the ambient air continuously measures temperature and humidity values. The electronics, invisible to the user, takes care of linearizing and conditioning the signal in such a way as not to be affected by noise and sends it via cable to Integra Control Clima.
TECHNICAL DRAWING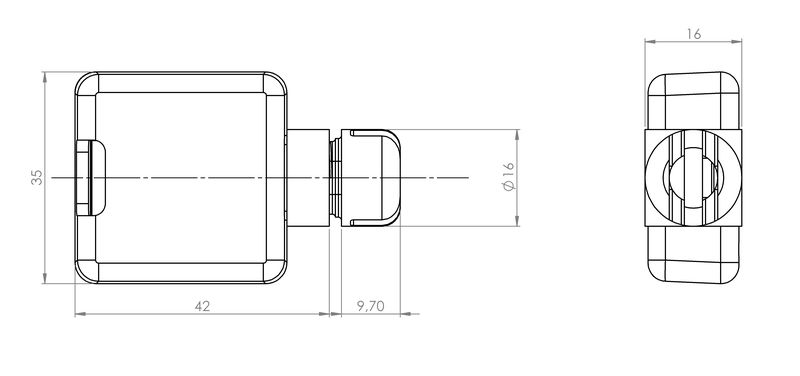 Dimensions in mm.
TECHNICAL DATA
| | | |
| --- | --- | --- |
| | U.M. | Sensore Integra Point TH |
| | | Cod. SQCT06 |
| Altezza | mm | 35 |
| Larghezza | mm | 16 |
| Profondità | mm | 42 |
| Diametro coprisensore a vista | mm | 16 |
| Classe di protezione elettrica | IP | II-IP30 |
| Accuratezza misura di temperatura | °C | ± 0.5 |
| Campo di misura temperatura | °C | 0-70 |
| Accuratezza misura umidità relativa | %RH | ± 4.5 |
| Campo di misura umidità relativa | %RH | 0 - 100% |
| Isteresi umidità relativa | %RH | ± 1 |
| Potenza elettrica assorbita | W | <0.1 |
| Protezione elemento sensibile | | Membrana oleofobica e idrofobica |
| Diametro max. conduttore cavi | mm | 1,20 |
| Lunghezza massima di collegamento | m | 30 |
| Classe cavo di connessione | | Cavo STP 4 fili |
| Colore coprisensore | | Alluminio anodizzato |
| Peso | g | 49 |
ITEM SPECIFICATIONS
Code SQCT06 - Integra Point TH
Temperature and relative humidity integrated sensor, with a precision of 0.5 ° C and 4.5% respectively, with universal concealed fixing suitable for all types of electric cover module of the civil series of the main brands on the market, with an anodized aluminum sensor cover. Measuring range 0-70 ° C, 0 - 100% relative humidity, with signal transmission capacity up to 30 m.
INSTALLATION SCHEME / GRAPHICS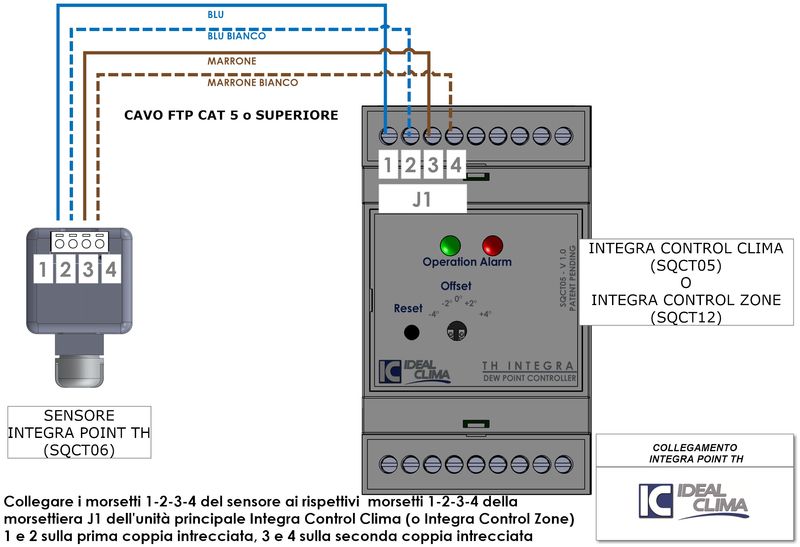 Integra Point TH sensor is designed to be easily inserted into a false pole by a module of the main brands on the market.
It is enough to drill a hole in the false pole (not supplied) with a manual drill with a diameter of 13mm of the chosen civil electric series, screw the sensor cover to the sensor body until the sensor is firmly fixed to the false pole. To ensure perfect centering of the hole with respect to the sensor cover, it is recommended to pencil an X from the corners of the false pole before drilling.